#SONOMACOUNTYSTRONG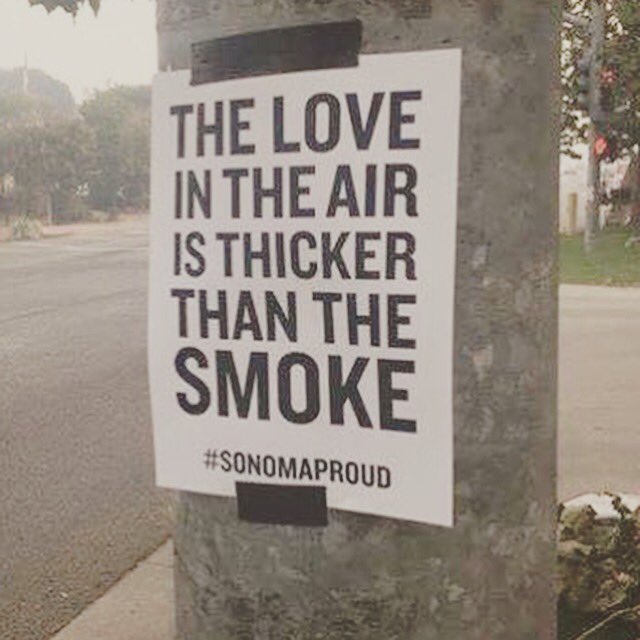 The Museums of Sonoma County will be open regular business hours: Tuesday – Sunday, 11am – 5pm.
Our "History of Food and Wine in Sonoma County with Gaye LeBaron" History Fundraiser, scheduled for Friday, 10/13, has been rescheduled and relocated. Please click here for details.
We are devastated to hear of the many lives, homes, and landmarks that were lost this week. Our thoughts and prayers are with you during this difficult time.
A Message From Our Director
Dear Museum Members and Friends,
This past week has been a remarkably difficult time for all, particularly for those who have lost homes and those who have been displaced, even temporarily. Our hearts go out to you and everyone who has been impacted by the fires.
Fortunately, the fires didn't reach downtown Santa Rosa and our Museums are fine. Last week we opened our doors to provide people with a free place to come, to charge phones, use free WiFi, get some bottled water, or just rest and relax in a safe, air-conditioned space. We will continue to offer the Museum as a safe haven during the coming weeks. Although we normally have an admission charge, please know that during this difficult time we are asking people to only pay what they can and we will be happy to welcome you, even if you come in for free.
Over the last several days we have been discussing the Museums' important role in documenting this terrible but significant chapter in Sonoma County history. We know that we need to respond with intelligence, creativity and compassion. Our plans are to collaborate with our colleagues at the city and county historical societies, as well as regional cultural agencies and organizations to collect ephemera, fragments, photos, salvaged items and personal accounts of the fires that have ravaged our area.
We see the History Museum's role in documentation and interpretation as central to our mission and we ask all who are impacted by the fires to save ephemera and gathered items. We are particularly concerned that items that may have historical significance not be discarded during the cleanup process. Please keep an eye out for interesting and significant items and we will provide instructions in the very near future about what to do with them.
We also see the Art Museum's role as important to help support artists and the creative community. The expression and artistic interpretation of our experiences over the past week will be important to the recovery and healing process. We're not sure yet how this will all play out, but we see the Museums' role as central to Sonoma County's remembering and expressions about the impact of the firestorm. Most certainly we will organize an exhibition that we will be planning in the coming months.
If you have ideas or suggestions please let us know and we will keep you posted on our progress.
Please everyone, stay safe as the fires are finally extinguished and we recover and rebuild.
Best wishes,
Jeff Nathanson
Executive Director
Museum Information:
(707) 579-1500
(Press 0 for Visitor Services during business hours)
425 7th Street
Santa Rosa, CA 95401
---
Resources
-Text your zip code to 888777 to receive emergency notifications on your cell phone or click the link to register online
-Evacuation Centers
-Confirmed Evacuation Areas
-Sonoma County Clinics
-Updates
Sonoma County Sheriff (Facebook)
-Updates
-Nonstop updates
-1350AM and 103.5FM
-Updates
-Map
-Additional Resources
-Emergency resources for artists